Development of liquid packaging and hospital supplies through JW Life Science's development of liquid product packaging materials and research on high functional (oxygen / moisture barrier) materials
Container Closure System means the entire packaging component that contains and protects the formulation.

CCS consists of a primary packaging component that is a part of the package that is in direct contact with the formulation and a secondary packaging component that is a part that is not in direct contact with the formulation.

The HP R&D Center of JW Life Sciences has achieved a global level of CCS through continuous research and expertise based on the know-how accumulated by a team of experts leading domestic IV solution related technologies.


Nutrition container diversification technology
Experience in developing various fluid formulations
Knowledge of physicochemical properties and functionalities of each container
Knowledge of physicochemical properties and functionalities of each container
Container and accessory development technology
Various eco-friendly medicine containers, patients, and customized accessory development technology
JW Nutrition Container
Although bottle containers have been mainly used since the production of IV solution, plastic containers have appeared all over the world due to problems such as bottle weight and risk of damage. Plastic containers can be classified into PVC and Non-PVC
PVC is an infusion container material that is widely used worldwide because of its low cost and easy molding.
However, DEHP, a plasticizer used to improve flexibility in the manufacturing process during molding, is a kind of environmental hormone, and risks in human body such as reproductive toxicity are emerging.
In addition, chloride of PVC has been found to make dioxin, a carcinogen when incinerated. In Korea and abroad, regulations have been made on PVC using phthalate plasticizers such as DEHP in IV solution containers.
Non-PVC is a general term for materials other than PVC. In the IV solution container, PP, PE or its composites are used, which has the advantages of being an environmentally friendly material, but requires high technical skills in processing. JW started the research of Non-PVC containers in the 1990s and developed its own technology for non-PVC IV solution containers, leading the advancement of domestic IV solution containers. In addition, JW has acquired the US FDA in 2003 and CFDA in China in 2004, and is actively engaged in overseas business such as exporting non-PVC IV solution film to China.


Nutrition Container Requirements
To be used as an infusion container, the following conditions must be satisfied.
It must be non-toxic and not reactive with the contents.
Moisture and gas must not be permeated.
It should be free of pyrogenic substances and sterile.
It must be resistant to external temperature, light, air and UV.
Have sufficient strength to maintain the stability of the product during transport, handling, storage, sterilization, use and easy storage / transportation.
Material acquisition should be easy and economical.
It should be transparent and convenient to use.
Classification
Glass
PVC
Non-PVC
Bottle
Bag
Plastic Bottle
Bag
Material
Silicon
PVC
PE or PP
PP or composite
Advantage
Low price
Good barrier property
Low price
Good flexibility
Upright type
Accurate capacity display line
Good drug
stability Good flexibility
Disadvantage
Aluminum elution
Difficulties in handling
Limited drug stability
DEHP (Environmental Hormone) Elution
Dioxin (carcinogen) emission
Poor flexibility
High price
Low processability
Bag & Film
Material : polypropylene multilayer plastic
Form : Mono bag, 2CB, 3CB, etc
Specification : 50mL, 100mL, 250mL, 500mL, 1000mL, 2000mL
Minimize the fine particles in solution by FFS (Form Fill Seal) machine method.
Container making, filling and sealing are automated in one machine.
Easy to insert fluid set and drug mixture by using rubber stopper system.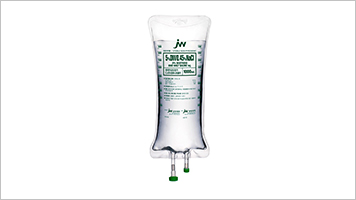 2-Port system
Two ports are distinguished to increase safety during drug infusion.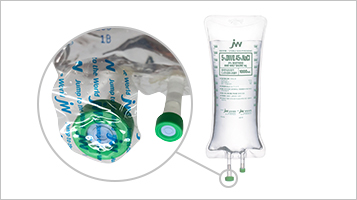 Tamper seal method
Tamper seal is attached to check the opening.
Various printing is possible so that product can be classified by color.
There is a free space for easy drug mixing.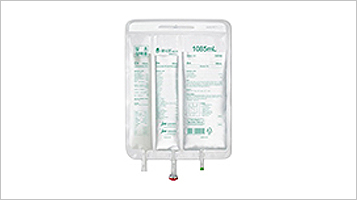 Multi Chamber System
Multi Chamber is a system that has multiple chambers such as glucose chamber, amino acid chamber and lipid chamber in one fluid container. The most advanced product with improved chemical stability and consumer convenience. Requires high technical skills and consumer can use after mixing chambers. JW Life Sciences produces and sells 2CBs of glucose and amino acids and 3CB products of glucose, amino acids and lipids.
Plastic Bottle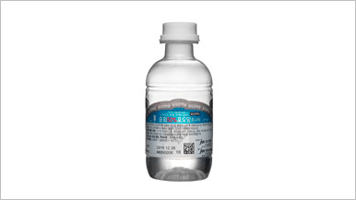 PP Bottle
Material : Polypropylene
Lightweight and easy to handle as it is not damaged by physical impact.
Specification : 50mL, 100mL
Labeling : Free expression in the form of stickers.
Hanger is attached to the label and can be used upside down if necessary.
There is a free space for easy drug mixing.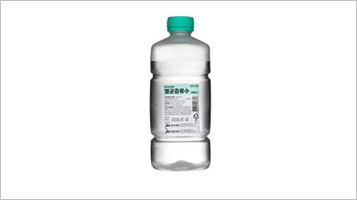 Perfusate container
Material : Polypropylene
Specification : 1000mL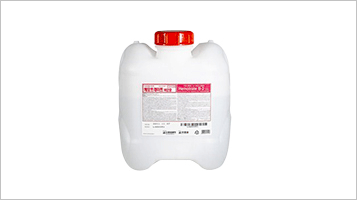 Dialysate container
Material : HDPE
Specification : 5.5L, 7L, 10L, 12.6L
It is an optimal design considering the stability of the product.
Intellectual property
KR1012738940000 (2013.06.05) : Ring-off Type Medical Cap and Cleaning Container for Medical Devices Employing Thereof
KR10-17998690000 (2017.11.15) : Multi chamber medical container
KR20-04822470000 (2016.12.28) : Nutrition Bag Packing Box for AN INFUSION SOLUTION BAG
KR20-04856000000 (2018.01.24) : FILLING PORT FOR AN INFUSION SOLUTION BAG
KR2004855990000 (2018.01.24) : Nutrition Bag (INFUSION SOLUTION BAG)